Orlando Carpet Cleaning Services
Over 27 Years of Cleaning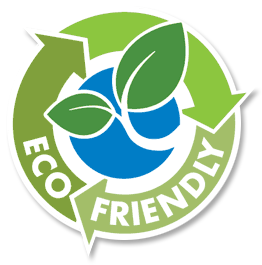 ECO-FRIENDLY CLEANING
Family Safe & Pet Safe Cleaning Products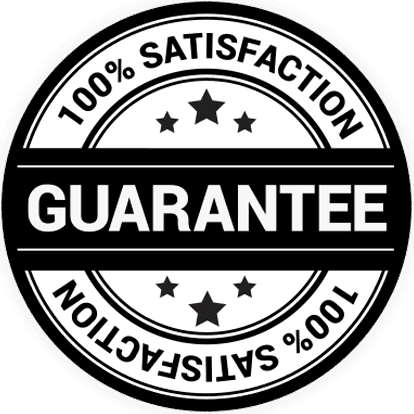 GUARANTEED RESULTS
With A Free Re-Clean Guarantee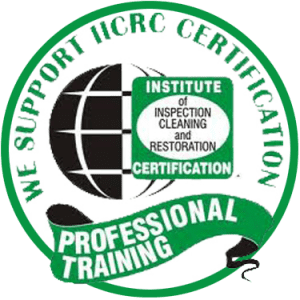 EDUCATION & EXPERIENCE
Education & Experience Certified Technicians & 27+ Years of Experience

Our carpet cleaners in Orlando clean area rugs, carpet, wood, tile & grout, upholstery, and mattresses. Even our 7-step program out-delivers most professional carpet cleaning services. You'll get a an eco-friendly pre-treatment and powerful "steam" cleaning – the "industry standard" hot water extraction method (recommended by all major carpet manufacturers). If you want an even higher level of clean (deep-scrub and corrective cleaning), we offer the advanced 10-step service that features RotoVac® machine cleaning. For the absolute most effective, protective, and convenient cleaning possible, we offer an ultimate 15-step service that includes additional *convenience and* finishing steps. You'll experience nothing less than an effective and high quality cleaning service from us!
You can also add Post-cleaning treatments (applied to freshly-cleaned carpet) like Enzymes (for control of pet odors) and Carpet Protector (to prevent ordinary soiling and spills from becoming permanent stains). Regardless of the level you select, you'll get amazing results! You can trust our quality service to remove tough stains from your carpet fibers and enjoy fresh and clean carpet again! Included at no extra chaRge
See specification sheets for details
Re-clean" Guarantee
(FREE re-clean if any spots resurface on the carpet within 3-weeks of our service)*

Disinfectant and Deodorizer
(Killing germs and odors does wonders!)
Speed-Dry Fans
(accelerates carpet drying) – a "pick-up fee" applies if the fans remain on the jobsite after the day-of-service (at the client's request)
Site Protection
(eliminates potential damage to corners, doorways, stairs, etc.)
Workers Compensation and Liability Insurance
(Without both, the customer is at risk)
*Our "re-clean" guarantee is subject to assessment before job begins (restrictions apply)
HOW CUSTOMERS CAN AVOID B.S. CARPET CLEANING COMPANIES (BAIT & SWITCH):
All carpet cleaning quotes should include
deep cleaning with truck-mounted machinery (not portable machines), deep-cleaning pre-treatment, disinfectant, and deodorizer

(NOT a perfume-cover-up scent, but an odor-killing-deodorizer).
Avoid companies that do not have worker's compensation and liability insurance or you could be responsible for worker's injuries and damages.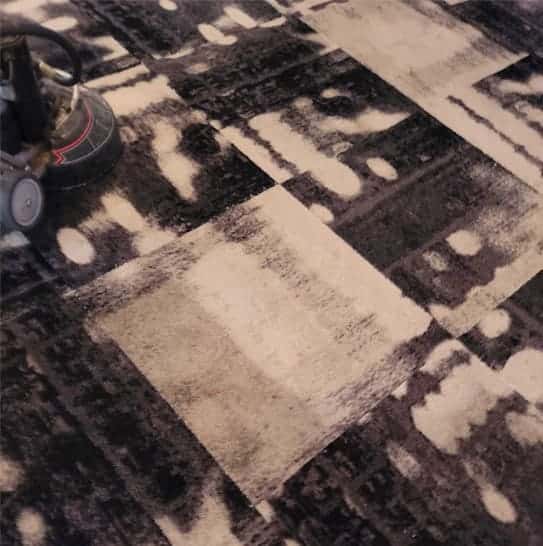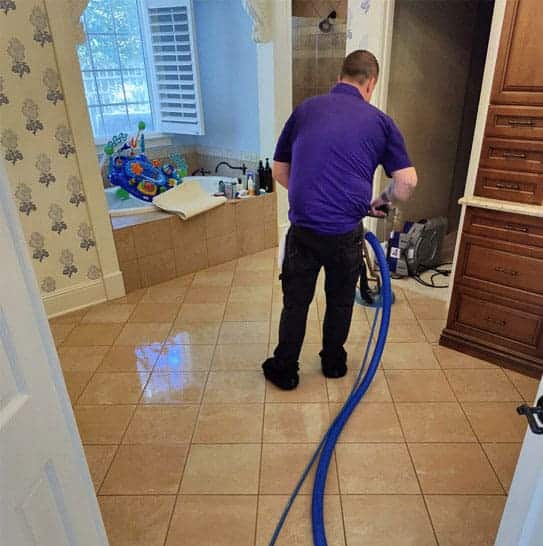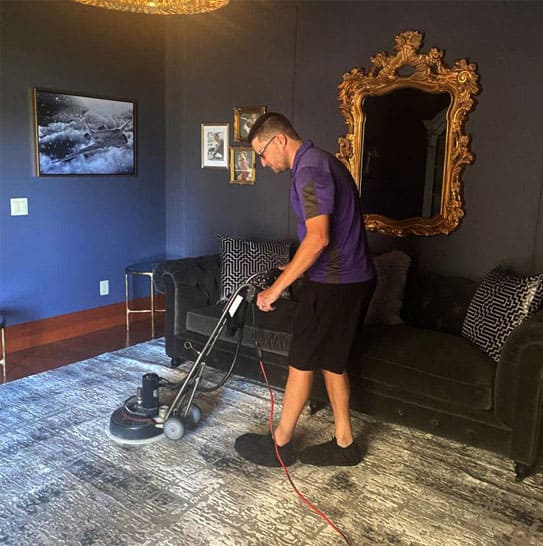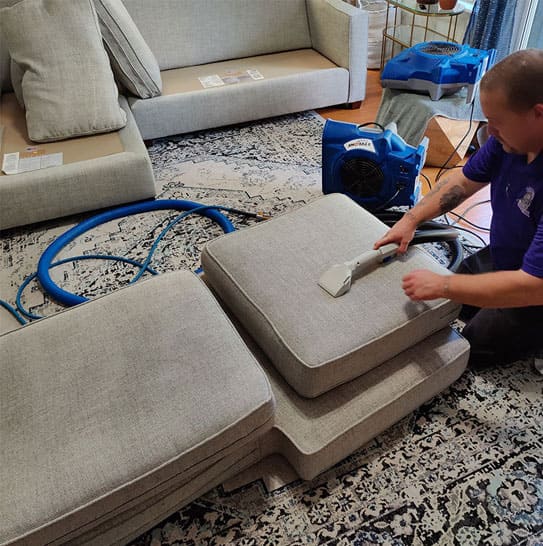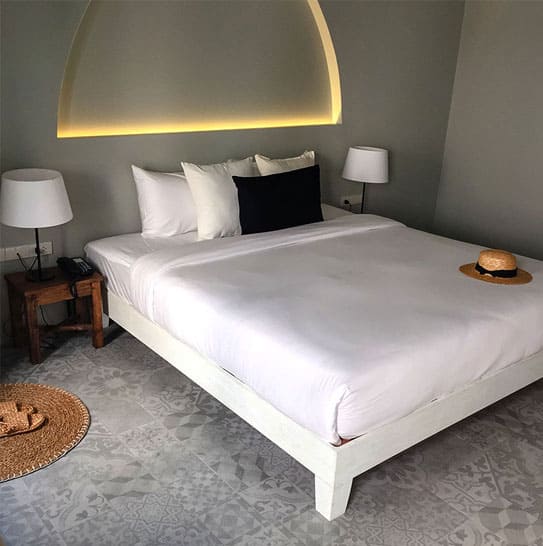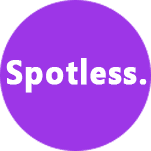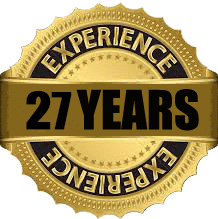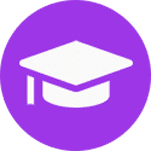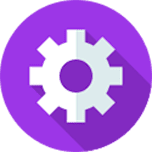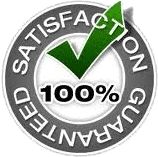 Free Carpet Cleaning
Once you experience our carpet cleaning service, you'll be a repeat customer! And, we reward repeat customers with FREE carpet cleaning.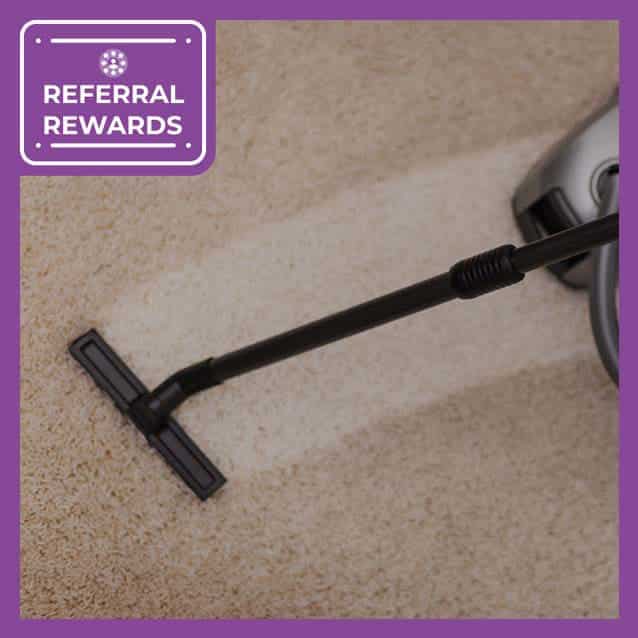 Referral Rewards
Get FREE cleaning services when you refer a new customer. And., you can give rewards too! Ask your technician about our "Referral Rewards Program."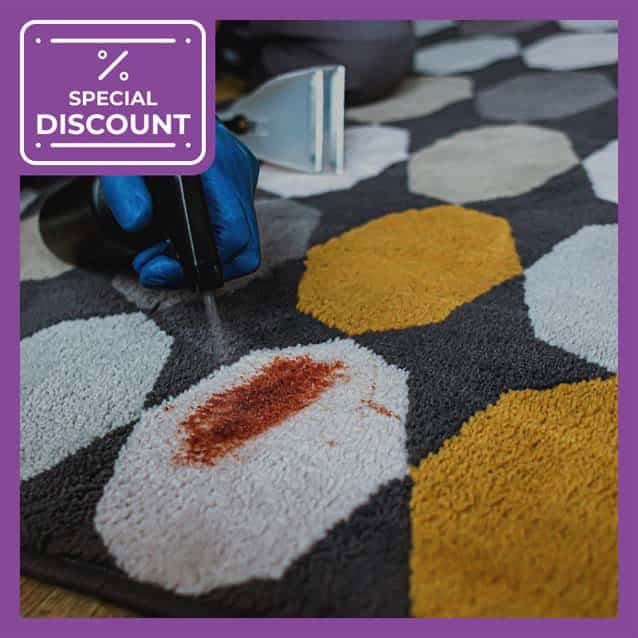 Save Money
Add more cleaning services while we are on your job or schedule another cleaning appointment for a later day and you'll get a discount.
Our Carpet Cleaning Orlando Story
Professional cleaning services by Dan Dan the Carpet Man will help make your home and workplace look great and to be a healthy place to live, work, and play! Our award-winning carpet cleaning Orlando services have made us the company preferred by homeowners, property managers, office managers, and restaurant operators in the greater Orlando area since 1996. Our Soft Surface cleaning (wall-to-wall carpet, area rugs, upholstery cleaning, Oriental rugs, and upholstery) process uses 100% earth-friendly, biodegradable, and eco-responsible cleaning solutions!
Besides carpet cleaning in Orlando FL, we are also experts at Hard Surface care like tile & grout cleaning and sealing, natural stone floor cleaning and polishing, tile cleaning and hardwood floor cleaning and coating (solid, engineered, and laminate). We offer HVAC Air Duct Cleaning and Dryer Vent Cleaning as well as Emergency Water Removal. Everything needed to maintain a cleaner, greener, safer, and more allergy-friendly home environment!
Our well-trained, uniformed, and fully-certified lead technicians clean in accordance with IICRC standards. The Institute of Inspection, Cleaning, and Restoration Certification (IICRC) is the most recognized body of certification for carpet and upholstery cleaners. Using state-of-the-art commercial-duty truck-mounted equipment, specialized cleaning tools, and industry best-practices combined with the power of our proprietary blend of earth-friendly cleaning solutions; our experienced team of carpet cleaning specialists will make sure that your job gets done the first time.
You get friendly, professional service … and, really clean carpets.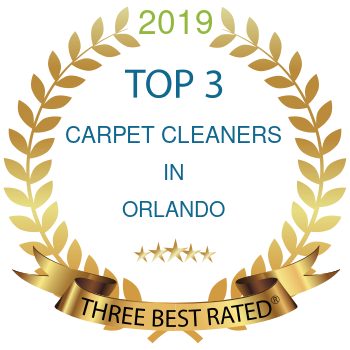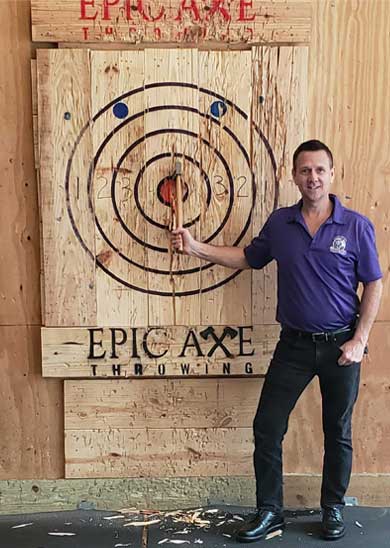 Our Founder
Dan Richard has over 40 years of experience in the service industry as a proprietor of progressively larger business operations. Since 1996, Dan has owned and operated Dan Dan the Carpet Man, one of the top Lake Mary-based carpet cleaning companies recognized for providing the highest level of professional service in the greater Orlando FL area. Experience counts and with a relentless focus on customer service and satisfaction, Dan's carpet cleaning Orlando company has provided thousands of people with high quality cleaning services. Built on quality carpet cleaning, Dan Dan the Carpet Man now offers an extensive line of cleaning solutions for homes and businesses. Field techs are trained by and comply with strict IICRC® standards and the company offers a FREE"re-clean" guarantee.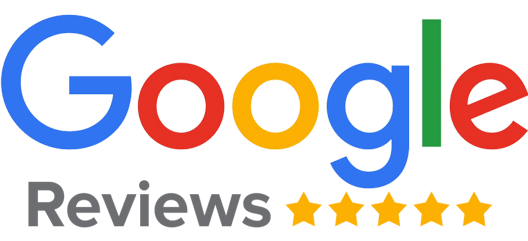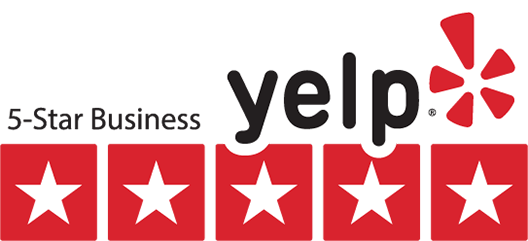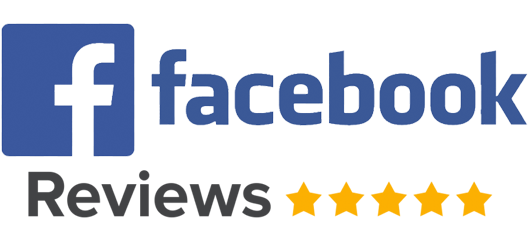 Here's Why Dan Dan the Carpet Man Should Be Your Professional Carpet Cleaning Company in Orlando FL!
1. Reputation: Dan Dan the Carpet Man enjoys one of the best reputations around. The area's most seasoned floor covering experts, interior designers and Realtors® refer our services exclusively. We have 1000's of satisfied residential and commercial repeat customers in the greater Orlando FL area. We are the local carpet cleaners you can trust to do an excellent job!
2. Fair pricing: We charge a fair and reasonable price based on the scope of work and the jobsite conditions at the level of cleaning that's appropriate for your property and budget. Our over-the-phone carpet cleaning estimate is verified on-site and before our carpet cleaners start the job you receive a firm price quote based on our "published" price list. No "bait-and-switch" or "high-pressure" sales tactics. Only an honest, up-front, and fair price. Get your free estimate for carpet cleaning in Orlando today!
3. Commercial Grade: Discounted and consumer-grade carpet cleaning products tend to leave sticky residue behind and sometimes discolor your floors or fabrics. We refuse to use such products. Insisting instead on top quality products with proper pH levels means cleaner fabrics and floors and a healthier indoor environment.
4. Satisfaction Guarantee: Our FREE "Re-clean" Guarantee is included at every carpet cleaning level. If any spots resurface on your carpet within 3-weeks of our carpet cleaning services, we will return to your property and re-clean the affected area(s) at no additional charge. Coverage does not apply to Berber (Olefin) carpets. If the technician-recommended cleaning package is declined by the client, it will void the free "re-clean" guarantee. We will perform a re-clean within 30 days of the original service date at a 50% discount. Customer satisfaction is our priority so you can always trust that we'll do an amazing job.
5. Annual Programs: We offer cost-saving annual carpet cleaning programs to customers who care about the appearance of their property. Pay for 3 full cleanings within 12 months and get the 4th full cleaning FREE (of equal value). Annual maintenance programs are available too!
6. Experience and Education: Our Central Florida carpet cleaning company is experienced in all types of fibers and soiling conditions, no matter how unusual they may be. If we can't clean it … no one can! Whatever your Orlando carpet cleaning challenge is, we can handle it! And, we invest in education too! Our "Lead" technicians are certified by the IICRC® (Institute of Inspection, Cleaning & Restoration Certification), the world's most recognized body of certification for carpet, upholstery, and tile cleaners.
7. Systems: Equipment is very important! We insist on using the highest quality, most advanced, commercial-grade truck-mounted equipment and specialized cleaning attachments. The systems our Orlando carpet cleaners use will achieve maximum soil and spot removal without over-wetting your floorcoverings or fabrics and without leaving a sticky residue behind.
8. Referral Rewards: For every new customer you refer to us, we will send you a "Referral Reward Voucher" for $50 when your referred customer pays their invoice. Use the voucher toward any of our cleaning services.
9. Better Customer Service: Our mission is to provide the most outstanding service experience possible. Our Orlando carpet cleaners are committed to showing up on time, carefully deploying and retracting our equipment, and communicating with you throughout our professional cleaning services. Our professional carpet cleaning staff will arrive in a properly equipped vehicle, dressed in uniform, and ready to serve you in a courteous manner. No matter what we are cleaning for you, you'll see our fully-trained, professional Orlando technicians using safe and effective IICRC® approved processes and state-of-the-art commercial grade equipment.
10. Credentials: We're proud of our professional accomplishments over 23-years of carpet cleaning service and are happy to provide new clients with our industry certifications, proof of insurance, professional references, client testimonials, and social media ratings. We look forward to adding your positive rating!
WE PROVIDE SERVICES IN THE FOLLOWING AREAS:
"Dan provided very professional service and transformed our carpets so that we could get a new tenant into a townhouse we use as a rental property in Dr Phillips, Florida."
Client of Coldwell Banker

37 North Orange Ave #430 Orlando, FL 32801