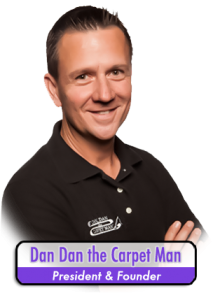 Who is dan dan the carpetman?
Dan Richard has over 35 years of experience in the service industry as a proprietor of progressively larger business operations. Since 1996, Dan has owned and operated Dan Dan the Carpet Man the Lake Mary-based carpet cleaning company recognized for professional service most recently by receiving the Angie's List Super Service Award for 2014. Experience counts and with a relentless focus on customer service and satisfaction, Dan's company has provided thousands of people with high quality cleaning services. Built on quality carpet cleaning, all Dan Dan the Carpet Man now offers an extensive line of cleaning solutions for homes and businesses. Field techs are trained by and comply with strict IICRC® standards and the company offers a 100% satisfaction re-clean guarantee.
Dan grew up in rural Ohio where he raised horses for show and rabbits to sell – his first business venture. At age 13, he moved to South Florida and attended the Prep School of Boca Raton likely making him the only Redneck Preppy you'll ever meet. At the same age, Dan started a lawn service that grew into a staff of 15 with a quarter-million dollars in annual sales by the time he was 22-years old. After selling that business, he went on to start a tree trimming company in Texas, and then one in Orlando which he sold to become a mortgage broker.
His success as a serial entrepreneur has allowed Dan to spend time developing relationships while motivating and entertaining people in the networking community. Dan contributes his time and talents to local business organizations like the Chamber of Commerce in Casselberry, Sanford, South Seminole (Regional), and East Orlando. Currently, Dan is an Ambassador for the Main Street Chamber in Sanford. Dan also supports many different charitable causes in our community as well as in Haiti – he cannot say no if asked to donate free services for fundraisers. Dan's passion is to serve people by motivating the creation of goals and teaching techniques that will allow for their achievement. A real inspiration to entrepreneurs, Dan has been a featured speaker at The Coffee Club, The Legacy Club, and the Neighborhood Service Network (for Premier Properties). Other business groups; particularly Realtors, Property Managers, and Networking organizations (like BNI) regularly request Dan to present.
A resident of Seminole County since the early 90's, Dan is a family man with a personal life that has been filled with raising 3 children on his own as a single father. Dan spends quality time with his adult children and is now the proud grandpa of granddaughter Aaliyah.
Here's why Dan Dan the Carpet Man should be your cleaning company!
01
REPUTATION:
Dan Dan the Carpet Man enjoys one of the best reputations around. The area's most seasoned floor covering experts, interior designers and Realtors® refer our services exclusively. We have 1000's of satisfied residential and commercial customers in the greater Orlando area.
02
FAIR PRICING:
We charge a fair price based on the scope of work and the jobsite conditions at the level of cleaning that's appropriate for our property and your budget. Our over-the-phone estimate is verified on-site and before we start the job you receive a firm price quote based on our "published" price list. No "bait-and-switch" or "high-pressure" sales tactics. Only honest, up-front, and fair pricing.
03
COMMERCIAL:
Grade Products. Discounted and consumer-grade cleaning products tend to leave sticky residue behind and sometimes discolor your floors or fabrics. We refuse to use such products. Insisting instead on top quality products with proper pH levels means cleaner fabrics and floors and a healthier indoor environment.
04
SATISFACTION GUARANTEE:
Our "Re-clean" Guarantee is included in our Hero (Advanced 10-step service-level 2) and super hero (Ultimate 15-step service-level 3) residential packages as well as our 10 step commercial cleaning. If any spots resurface on your carpet within 3-weeks of our service we will return to your property and re-clean the affected area(s) at no additional charge. Coverage does not apply to Berber (Olefin) carpets and is not included in our Good Samaritan Service (Basic 5-step service-level 1)
05
ANNUAL PROGRAMS
We offer cost-saving annual cleaning programs to customers who care about the appearance of their property. Pay for 3 full cleanings within 12 months and get the 4th full cleaning FREE (of equal value). Annual maintenance programs with monthly payment plans are available too!
06
EXPERIENCE & EDUCATION
Our company is experiences in all types of fibers and soiling conditions, no matter how unusual they may be. If we can't clean it – no one can! Whatever your cleaning challenge is, we can handle it! And, we invest in education. Our "Lead" technicians are certified by the IICRC® (Institute of Inspection, Cleaning & Restoration Certification), the world's most recognized by body of certification for carpet, upholstery, and tile cleaners.
07
SYSTEMS:
Equipment is very important! We insist on using the highest quality, most advanced, commercial-grade truck-mounted equipment and specialized cleaning attachments. The systems we use will achieve maximum soil and spot removal without over-wetting your floorcoverings or fabrics and without leaving a sticky residue behind.
08
REFERRAL REWARDS:
For every new customer you refer to us, we will send you a "Referral Reward Voucher" for $50 when your referred customer pays their invoice. Use the voucher toward any of our cleaning services.
09
BETTER CUSTOMER SERVICE:
Our mission is to provide the most outstanding service experience possible. We are committed to showing up on time, carefully deploying abd retracting our equipment, and communication with you throughout the service experience. Our staff will arrive in a properly equipped vehicle, dressed in uniform, and ready to serve you in a courteous manner. No matter what we are cleaning for you, you'll see our fully-trained, professional technicians using safe and effective IICRC® approved processes and state-of-the-art commercial grade equipment.
10
CREDENTIALS:
We're proud of our professional accomplishments over 19-years of service and are happy to provide new clients with our industry certifications, proof of insurance, professional references, client testimonials, and social media ratings. We look forward to adding your positive rating!
"Dan provided very professional service and transformed our carpets so that we could get a new tenant into a townhouse we use as a rental property in Dr Phillips, Florida."
Client of Coldwell Banker

37 North Orange Ave #430 Orlando, FL 32801