Schedule Tile and Grout Cleaning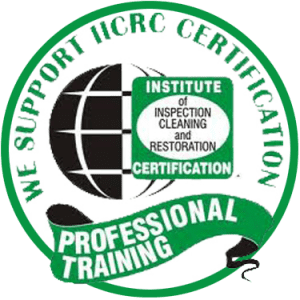 EXPERT ADVICE
The Institute for Inspection, Cleaning, and Restoration Certification (IICRC), the most recognized body of certification for carpet cleaners and tile flooring cleaners, offers insight on how to maximize your investment and extend flooring life.
Expand More
While tile appears to be easy to clean, maintain and restore; soils and contaminants (oils, food particles, pet-related residues, etc.) have a tendency to build up progressively, resulting in erosion of the tile surface and grout lines. Sooner or later, it's necessary to clean beyond routine dusting and damp mopping; that's the time to call in a certified professional for help. Certified technicians have the specialized training and experience it takes to select the proper cleaning chemicals, equipment, tools and materials in conjunction with the proper methodologies for maintaining or restoring tile flooring to its original beauty.
Certified technicians can offer advice on how to clean and maintain the appearance of tile and grout.
IT'S TIME
When do you need professional tile & Grout Cleaning?
Experts use these 4-points – you can too!
Expand More
01

Discolored Grout. If your grout is darker or heavily-soiled in high traffic areas (as compared to areas you seldom walk in), professional cleaning is needed.

02

No Sealant.If your tile was not sealed during installation, you'll need professional cleaning before applying a sealant (we can recommend and apply the highest-grade sealant).

03

If you have pets.Grout gets very dirty from the oils in pet fur. Urine stained grout may lighten up tremendously or be completely removed.

04

Spotting.Food, grease, and oils can be cleaned-up quite well using our professional process
OUR APPROACH
We use IICRC certified professionals to clean your tile & grout.
The IICRC believes that the best way to maintain a cleaner and healthier home is to augment your regular cleaning and vacuuming with periodic visits from an experienced certified professional. For those tasks that require a specialist — such as carpet and upholstery cleaning, stain removal, and maintenance of wood and tile floors — only a certified technician will deliver the results you can trust.
Expand More
We use the cleaning method most recommended in the industry!
Our restorative system will remove all dirt (oils, grease, grime, and soil) from your tile and grout. However even after we remove the soils, your grout may have some imperfections that persist (particularly in grout more than 10 years old).
Quadruple Cleaning Power
01

Alkaline WashHand applied – mopped on your tile / scrubbed into your grout lines.

02

Steam CleanHot Water (240 degrees) Rotary Pressure Cleaning (1000 PSI) with vacuum extraction.

03

Hand CleanHand Cleaning and towel drying in corners and machine inaccessible areas.

04

Acid WashWe will re-apply a second cleaning solution(acid-based) then re-steam clean your tile floor.
OUR Process
01

Pre-inspection.We identify the type of cleaning solution that will work best using IICRC recommended cleaning methods.

02

Furniture Moving.For a more thorough cleaning, your Technician will carefully move light furniture (larger pieces are left in place).

03

Pre-Vacuum.Using our commercial vacuum equipment, your tile is pre-vacuumed (dry) to remove harmful materials including dust, sand, dry soil, and debris before cleaning (wet).

04

Site Protection.We're always careful, but to better protect your home we deploy specific site protections including a door mat (dirt tracking), door seal (if alternate entry is available) corner guards and door stops (hose damage) and other precautions (signage, cones, etc.).

05

Pre-treat.We use an alkaline wash that whitens and brightens the surface and restores the grout to its original luster.

06

Agitate.Your technician will agitate resistant spots with a grout brush, if necessary.

07

Hand Clean.We clean corners and scrub inaccessible areas by hand, if necessary.

08

Steam Clean.Using commercial-duty truck-mounted equipment, we clean your tile and grout using a hot-water (240 degrees at truck) extraction system with a rotary pressure-cleaning head (@1000+ psi).

09

Post-treat.We apply an acid-based solution togrout lines (except natural stone) and re-steam.

10

Post-inspection.We're only finished when you review the work and are completely satisfied.
We can recommend a high-quality sealer and provide professional application. (See Below)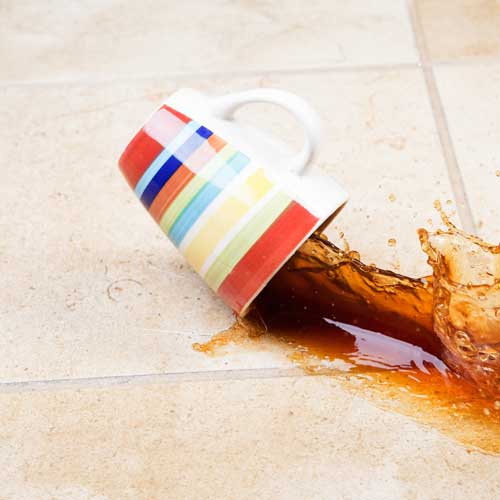 Seal & Protect
We can apply a highly effective, solvent-based grout sealer, to protect against re-staining and discoloration. The sealer is applied to the grout lines and then buffed in with a rotary floor machine. If your grout wasn't sealed during installation, you should consider sealing and protecting it after professional cleaning. Remember, never apply a grout sealer before a thorough cleaning (you don't want to seal in the dirt).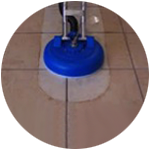 OUR EQUIPMENT
Using commercial-duty truck-mounted equipment, we clean your tile and grout using a hot-water (240 degrees) extraction system with a rotary head (@1000 psi). This is the same equipment we use for cleaning carpets – only the power head is different (see photo).
We dispatch a fully-equipped professional cleaning crew to your job. We have the equipment and the trained personnel to get your job done correctly (according to IICRC standards) and efficiently (in a reasonable timeframe that permits thorough cleaning).
You won't find a better-equipped and trained cleaning company.
Expand More
01

Vehicle Fleet.Service Vans with power unit and self-contained water tank. Trailers with power unit only.

02

Safety.Vehicle parking cones, first aid kit, fire extinguisher, and other DOT-required equipment.

03

Site Protection.Pressure hose connector covers, door mat, non-marring hose retainer (for 2nd floor work), and furniture blocks (furniture moving services available) are standard site protection equipment. The use of safety signs, corner guards, entry door seal (for hoses), shoe covers, and other site protection equipment and procedures are only included with our UltraCare™ package.

04

Non-power Equipment.Our service vehicles are outfitted with a full complement of cleaning equipment (buckets, mops, brushes, etc.), pump-up sprayers, hand tools, and crew convenience items (drinking water, handsoap, personal gear).

05

Power Unit.Commercial grade, vehicle mounted, gasoline-powered, high pressure (1000psi) hot Water (240 degrees) extraction equipment specifically designed for cleaning tile floors.

06

Hoses.Non-marring vacuum (2") hoses and high-pressure hot water hoses (3/4") reach up to 250' and are maintained on vehicle-mounted reels. Metal couplings are covered with protective jackets (pressure hose connector covers).

07

Filters.Our pre-filter collects carpet fiber and all other debris. Any valuable items swept up by our vacuum process can easily be recovered before reaching our main filter.

08

Power Head.We use a specially-designed patented "power head" to pressure wash your tile and grout while simultaneously removing the water, dirt, and cleaning solutions.

OUR RESULTS
Dirty tile and grout can make your entire room feel dirty. It's a shame to have dark, dingy tile and grout when it's so quick and easy to make it look like new again.
Expand More
Polished ceramic tiles perfectly aligned within clean-looking grout borders add a touch of sparkling charm to your home or office. Since 1996, Dan Dan the Carpet Man has delivered expert tile and grout cleaning with great results. Maintaining and cleaning tiles and grout can be messy work and take up valuable time. That's why the task of cleaning tile & grout often remains on the "to do" list for years. Home owners can depend on Dan, Dan the Carpet Man to get this difficult job done "properly". Don't live with a dirty looking tile floor one more day – call us.
Have you reached that point? We will come to your home or office and get the job done-quickly and professionally for you. Your tiles will once again look clean, colorful and appealing to all that visit you. Call Dan Dan the Carpet Man, we are the tile cleaning experts that will restore your tiles and grout lines to a clean look that you will be proud to have as a part of your home or office.
You can easily see the difference when you have your tile & grout professionally cleaned by Dan, Dan!
"Dan provided very professional service and transformed our carpets so that we could get a new tenant into a townhouse we use as a rental property in Dr Phillips, Florida."
Client of Coldwell Banker

37 North Orange Ave #430 Orlando, FL 32801